Boxing Day News....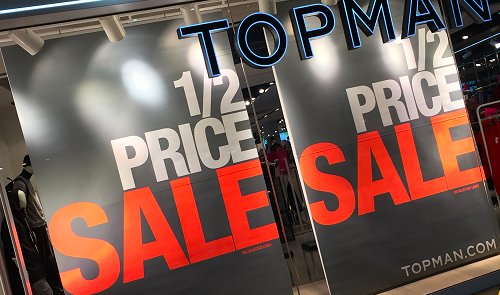 Shoppers hit the High Street
It looks like another busy Boxing Day for UK retailers. Many major stores began their sales online on Christmas Eve, although the high street is still hoping for a record turnover this Boxing Day. Retailers in London's West End are hoping to take more than £100m in sales over the next three days. Shoppers are predicted to spend a total of £3.74bn in the Boxing Day sales, up 6% on last year, according to figures from the Centre for Retail Research.

It is expected that 78% of Boxing Day transactions will take place in stores, although online sales will also be popular. Online shopping is expected to account for £856m in sales - up 22% on last year's £699m, according to Experian and IMRG.

Among the big discounters are department stores Harrods, Selfridges, Liberty and House of Fraser, while Marks & Spencer and Next have both launched price cuts of up to 50%. Britons have already spent more than £700m on Christmas Day. Shopper traffic has rise 3% year-on-year on Boxing Day.

With Boxing Day falling on a Saturday, this means for most an extended Christmas break with the extra bank holiday on Monday. Last Saturday an estimated £1.1bn was spent on so-called "Panic Saturday".
Festive swimmers are urged to take part in 46th Redcar Boxing Day Dip
Hundreds of dippers are set to raise thousands of pounds for charity on December 26 after they enter the chilly North Sea for one of Teesside's great festive traditions, the Redcar Boxing Day Dip.

It has raised vast amounts of money for good causes over the years, with last year's event bringing in more than £15,000 for local and national charities.

Now the Rotary Club of Redcar, which is organising the dip on behalf of the Middlesbrough Teesside Lions Club, is appealing for people to take the plunge again.

A key feature of this year's dip - the 45th - will be that all the money raised through sponsorship will be for dippers' chosen charity or organisation.
Boxing Day shopping jackpot in Western Sydney KO'd: Government won't back nationalised approach
Retailers in western Sydney are set to again miss out on the Boxing Day shopping bonanza after the federal government last night confirmed it would not push for a nationalised approach to public holiday trading.

In February, the Prime Minister's chief red tape slasher, Josh Frydenberg, looked at devising a streamlined approach to trading which would have been presented at a Council of Australian Governments meeting this year.

Cutting industry red tape was raised at the May COAG meeting, but public holiday changes were put on the backburner.

Small business minister Bruce Billson last night confirmed trading changes would not be brought to a meeting this Friday. Instead, the government will now wait on the outcome of an independent review that will be released next year.
Catholics permitted to eat meat on Boxing Day, say English and Welsh bishops
The Bishops of England and Wales have said that Catholics are permitted to eat meat on Boxing Day this year, despite the fact that it falls on a Friday when they are usually required to abstain.

A spokesperson for the Catholic Bishops' Conference for England and Wales said: "To consider St Stephen's Day or Boxing Day as a day of abstinence would not be compatible with the festive and celebratory nature of the Christmas octave. It is a special day when, uppermost in our hearts and contextual of our celebrations is that instinctive sense of wonder at the Incarnation of Our Saviour Jesus Christ, the meaning of the love, joy and peace we all crave at Christmas."

The spokesperson highlighted that Boxing Day falls within the octave of Christmas and therefore it is "contrary to the mentality of what an octave is to consider one of its days as penitential."
Black Friday In Canada About To Eclipse Boxing Day: Survey
Black Friday could be the new Boxing Day when it comes to scooping up deals, according to an early holiday shopping survey.

Accenture's 2014 holiday shopping survey suggests that Boxing Day is losing its position as Canada's best day to shop for deals, as the popularity of the post-U.S. Thanksgiving phenomenon ramps up north of the border.

An equal amount of survey respondents (33 per cent) believe the best deals are on Boxing Day as on Black Friday. That compares to 44 per cent who backed Boxing Day last year, when just 23 per cent of respondents said Black Friday was the best day for deals.

Six in 10 Canadians who answered said they planned on shopping on Black Friday, which falls on Nov. 28 this year.
Find out more about Boxing Day



Read More
How much does the 12 days of Christmas actually cost?
Read More
All you ever wanted to know about New Year's Day.
Read More
The PPL top 20 Christmas songs played on radio stations in the last decade.
Read More
Christmas Markets what are they all about?
Read More