Dubai - A Great Holiday Destination
Planning a trip? here's the best time to go.

Dubai is one of the seven emirates that make up the United Arab Emirates (UAE). It could be likened to an independent city-state and is the most modern and progressive emirate in the UAE, developing at an unbelievable pace, in the tourist and trade sectors especially. Having the Largest immigrant population in the world, Dubai is one of the must-see tourist destinations, a busy desert city in the Arabian Gulf renowned for the fastest, biggest, tallest, largest and highest.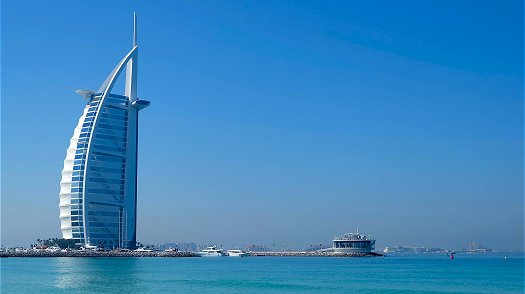 Do's and Dont's in Dubai
Islamic laws re strictly followed in Dubai and they should be respected by travellers there. Do not publicly criticize or distribute any materials against it. Eating in public places is not allowed during Ramadan and so visitors should have their meals in their Hotels. Do not criticize the ruling families of any of the seven Emirates or renowned business families in Dubai. Be careful of all your belongings especially cash; Many cases have been heard in Dubai where people have been robbed of large amounts of Cash in crowded places.
Public displays of affection or cross-dressing may lead to jail time and/or deportation and should be avoided completely in public to ensure that no problems arise. Women should dress sensibly and avoid wearing revealing outfits when in busy areas. This is especially true when traveling to districts like Karama, Deira and Bur-Dubai, where the streets are packed with men, especially on evenings and weekends.
Do not jaywalk or cross where there are no clear pedestrian markings. Speeding is common and the odds of you being knocked over are quite high unless you follow the rules.
Dubai the all year round fun capital
Dubai remains crowded all the time - no matter what the season is - due to it's plentiful and awesome attractions making it a great short break for shopping, partying, sunbathing, fine dining, and sporting events.
Dubai is a tremendous place for going out and about. No need to sit in your hotel room wondering what to do when there is a rich variety of tours within the city and outside it that are fun, educational, and exciting whether by yourself, with friends, or family. From bird watching tours to creek cruises, indoor skiing, jeep safaris to desert feasts, there is never a lack of activities in Dubai.
Throughout most of the year Dubai enjoys a dry subtropical climate, with sunny skies and the occasional bouts of rain-mainly in the cooler months. The hottest time of the year is between May and September, when the heat is relentless with an average of 45°C besides high humidity levels. Temperatures are only slightly more restrained during the rest of the year, the coolest time being between December and March when temperatures reach a nice 30°C.
The annual Dubai Shopping Festival, which runs for four weeks from mid-January to February attracts scores of visitors making it a great time to visit. Other note-worthy dates include the Dubai Rugby Sevens in December, the Dubai World Cup in March, the Dubai Tennis Open in February or March and Dubai Camel Racing, which is held every Thursday and Friday in November at Nad Al Sheba racetrack.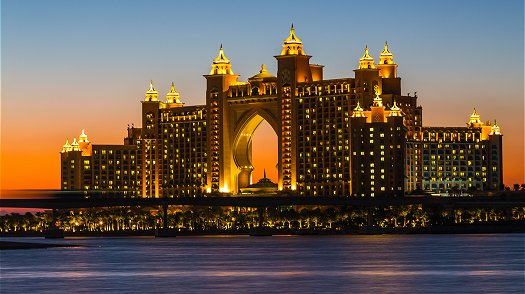 Deira is an older part of town along the northeast part of the creek. Vendors have been selling their wares at these various souqs (markets) for hundreds of years. Especially interesting is the selection of goods offered by the various spice merchants. Shopping here will give you an authentic taste of Dubai. There is also the Perfume Souk and the Gold Souk, and everyday goods are also sold here. On the weekend, stop in at the Deira Food Market for inexpensive and fresh produce. Have a look at the clock tower in Deira. Its interesting architecture splays out above a fountain. It's also worthwhile to stop in at the Al Ahmadiya School & Heritage House on Al Ahmadiya St. The oldest part of this former home turned museum was built in 1890 by a merchant, and the architecture, some it made out of coral and gypsum is beautiful.
What to do in Dubai
There are endless water-sport activities in Dubai, since it has some of the whitest and sandiest beaches in the world. One can even make the 90 minute road journey to the East coast Emirate of Fujairah or the Sharjah enclave, Khor Fakkan, for top class diving on coral reefs supported by extensive marine life. A trip out into the desert for some dune bashing in 4x4 jeeps is a must. Then top the afternoon off by jumping on a camel then watch the sun go down over the dunes in a Bedouin camp eating traditional Arabic food and drinking Arabic coffee.
Shopping in Dubai
If you want to keep shopping but in a more conventional shopping center, head east to Al Manal Center especially if you are looking to spend some dirhams on jewelry, cosmetics, watches or clothes or head to Abraj Center, which also has an extensive food court. Another option for a quick bite to eat, is to stop in at one of the many shawarma diners. Shawarma is most available food item on almost all streets in Dubai and is cheap too. It is the Arabic equivalent of the Burger. It costs about AED 5 for either the plain-jane variety or the more exotic Lebanese and Iranian varieties. The Shawarma sold by Indian restaurants are arguably the cheapest. Another local snacks is Fala-Fil (Felafel, Falafel) also available at about the same costs as the shawarma.
Further down the creek (several kilometers) on the east side, you will come upon the Cuisine Museum where you can learn about the culinary traditions of the United Arab Emirates. A little farther down is the Dubai Creek Golf and Yacht Club, a world-class course that has hosted PGA tournaments and offers other luxurious facilities including six restaurants and wonderful views of the creek.
The best goods you can buy in Dubai are textiles, electronics and gold. Electronics are believed to be much cheaper while textiles and gold offer a variety of selection. The Gold Souk is a historic market since the origin of Dubai, located at the mouth of Dubai Creek, Gold Souk dazzles people by selling gold in large quantities which are of 22ct quality, with expensive and detailed craftsmanship. Shops in the Malls are open from as early as 9:00 a.m to 10 p.m on weekdays. On weekends, they remain open till 12:00 a.m and sometime even 1:00 a.m. Remember to haggle in the Souks since discounts are almost always available. Prices in the Mall and other shops tend not to be hagglable though.
Night Life in Dubai
Dubai has a very vibrant night life and almost all 3 to 5 Star Hotels have bars and clubs for those who are interested in enjoying the night life in Dubai. World-class Djs and numerous renowned musical celebrities add to the list of tour dates as well.