Venice - The world's most romantic city
Planning a trip? here's the best time to go.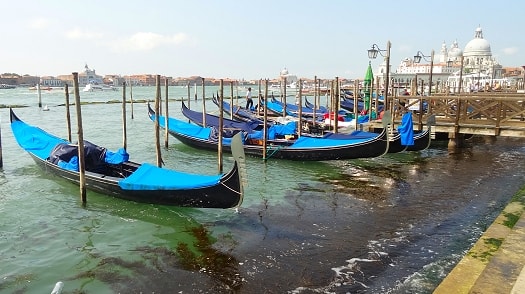 Located off the north-eastern shore of Italy, the beautiful city of Venice is made up of 118 small islands connected by bridges surrounding the main Grand Canal that curves through the city of Venice. The world's only pedestrian city, is easily walkable, although no trip would be complete without a punt down one of the cities picturesque canals in an iconic gondola. Water buses are also a great way to get around and are cheaper than water taxis. Venice has so much to offer, from the precious works of art displayed around the city to the grand architecture of St. Mark's Basilica.

Venice is a remarkable place, it's streets and canals fringed with grand palazzi, it's historic monuments and beautiful churches. The city's epic grandure has attracted lovers, artists and poets for centuries and never fails to inspire those who visit. It's easily explored on foot-as you wander the pathways and bridges, you'll come face-to-face with some classic Venetian scenes, with washing lines overhanging tiny canals and busting piazzas lined with market stalls. Walking isn't the only way to get around Venice, there's nothing more romantic than being sung to by a gondolier as you're punted gently down the waterways, or more glamorous than gliding along to Gran Canal in an open top water taxi.

When it comes to sightseeing, St. Mark's Square is a good place to start. It's home to the twin jewels in Venice's Crown, the Palazzo Ducale or Doge's Palace and Saint Marks Basilica. You'll also find some of Venice's most elegant cafes here, where diners are serenaded by tuxedo-clad musicians.
Shop 'till you drop
Running down from the Piazza San Marco to the Rialto area, the Mercerie and the nearby Calle dei Fabbri have been the main shopping streets in Venice for hundreds of years. There are some interesting and more unusual shops to the west of San Marco in Frezzeria. The up-market stores are located along the Piazza to the Accademia Bridge. Take a Vaporetto to the nearby island of Murano as this is the best place to go for Venetian Glassware, where it's been made for over 700 years.
Eating out
The city has some wonderful restaurants, including those near the Rialto Bridge where there's a row of tables by the canal. Sample some of his traditional dishes, including fresh water lagoon fish. There are two late night drinking areas in Venice in either Campo Santa Margerita or in Erbaria. Enjoy a glass of Venice Spritz, a sparkling mix of white wine and Aperol liquor. Although there are many fantastic bars, if you're planning a night out you should plan a few places to visit in advance so you don't waste time wandering aimlessly around.
Venetian food favourites
The Venetian region gives as some of our favourites. You'll find a large number of mushroom based dishes and seafood is really popular too. The Venetian classic is 'risi e bisi', which is just simply rice and peas. Cicchetti is Venice's version of Tapas - it's very popular and is perfect for sharing with a loved one. Prosecco is Italy's premier sparkling wine and hails from the Vento region with vineyard's dotted across the countryside. When mixed with fresh peach it makes a Bellini, a cocktail invented in Venice back in the 1920s.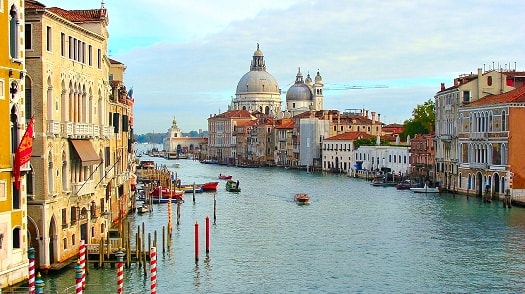 What can you do during a short trip?
Catch a gondola down the Grand Canal to get your bearings of the city and see the stunning sites from the water. It's an absolute necessity in Venice!

Climb the Campanile, the city's tallest building, to see the most spectacular views. At almost 325 feet high, you can see the Lido, the whole lagoon, and on a clear day, the Dolomites all visible on the horizon.

Take a trip to the superb St. Mark's Square, where you will find many of the city's main attractions, including St. Mark's Basilica, Torre dell'Orologio and Doge's Palace. With its stunning architecture and charming atmosphere, this Piazza definitely has a 'wow' factor.

At night why not take a romantic moonlight gondola ride under the Bridge of Sighs to guarantee eternal love. Sample the Italian cuisine in one of the small charming restaurants overlooking the Piazza San Marco square followed by a night at the Opera at Teatro La Fenice.
Need to know Information
Currency: euro
Time difference: GMT +1 hour
Flight time: from UK 3 hours
Airport: Marco Polo is located 12 km north of central Venice.

Best time to visit Venice

The best time to visit Venice is from September to November when tourists desert the city. The temperatures at this time of the year ranges from the upper 30s to mid-70s so be prepared and pack an extra layer of clothing. The reduced hotel rates and the distinct lack of tourists make this the ideal time to visit the canals.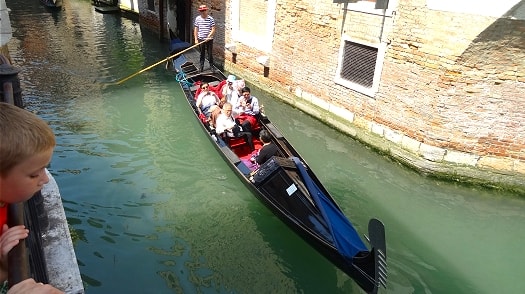 Top Venice tip
After visiting the main tourist areas, wonder away from the crowds to the more residential streets. Not only are these a lot quieter, but they also have some great shops, cafes and architecture. You're likely to get a bit lost but it's not a problem with the compact size of the city, you'll soon find your way to the main attractions. The locals are also there to help with directions and have put many a lost tourist back on the right track.
Venice carnival
The Venice carnival is one Italy's oldest and best known events which has been in full swing since the early 12th century, and was revived in the 1970s for two weeks of celebrations and parties. The celebration is held for 2 weeks and is usually held in February where a variety of free events and parades are held in St. Mark's Square in addition to ticketed galas, dinners and glamorous masquerade balls.

Venetians go out of their way to to dress up in special costumes and just love wearing beautiful crafted masks. The Venetian masks are spectacular and making them is still a cherished art in the city. Mask makers can be found everywhere and you can buy authentic handcrafted masks for anywhere between £20 and £180. Take part and get dressed for the occasion as there is a competition for the best costume. The least you can do is wear a mask but you will be guaranteed lots of fun.