Rome - A journey into ancient history
Planning a trip? here's the best time to go.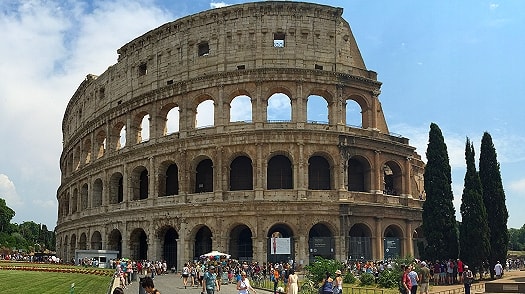 Rome, the eternal city, is often likened to one of the greatest open air museums in the world. The city has amazing historic sites waiting to be discovered around every corner. There is so much to see and do in Rome that you could comfortably spend a month here to take it all in. A week is just enough for you a taste of Italy's incredible capital. If you are only in Rome for a couple of days, you'll have to move fairly briskly to pack in all the sites. Most people put at the top of their to see list the Colosseum, the Sistine Chapel and St. Peter's Basilica.

Spanning back over 3,000 years the city has long been one of the world's leading centres of culture and still today it doesn't disappoint with its varied and diverse attractions. For art lovers there are master works of art like the Sistine Chapel, wine lovers will love the numerous wine feasts that take place and architects will be in awe at the iconic sites such as the world's largest amphitheatre - the Colosseum.

Getting around Rome's sights is simplicity itself as the majority of the attractions are all within comfortable walking distance of each other. As you walk from Vatican City to the Pantheon, Circus Maximus or Trevi Fountain soak up the sights and sounds of the Roman way of life and imagine what the city must have been like when the Roman emperors were at the height of their rule. If you are not able to walk far then there are bus routes that will take you all around the city for a small charge.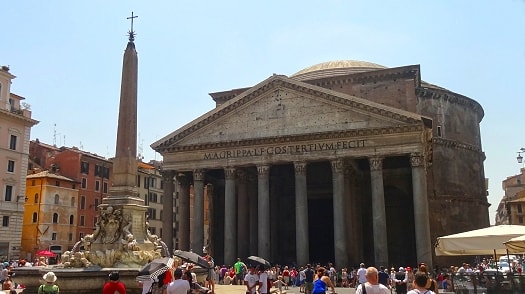 Take to the backstreets of Rome and you'll quickly feel you're in a small village with narrow cobbled streets leading out onto small squares and this is where you will discover parts of the city off the tourist track. You might stumble across a hidden church with beautiful frescos or a local trattorie serving some cheap and excellent wine from the Lazio hills. As you make your way through the streets take time to look up and you will see pretty views of roof gardens and sculptures.


Shop 'till you drop
As one of the worlds fashion capitals, you find everything in Rome from clothing and antiques, to Jewellery and fine works of art. The two major shopping areas are around Via Condotti, where you'll find high-end designers, and Via del Corso, offering more affordable clothing. Souvenirs and gifts can be bought at almost all the museums in the city, however these tend to be fairly expensive. A better alternative is to visit the many nearby stalls offering tourist treasures at more reasonable prices.
Eating out
When in Rome, for an authentic flavour of Italian cuisine, you're likely to do far better away from the tourist traps. Around Monte Verde Vecchio you find a handful of restaurant serving traditional fair at sensible prices. Pizza is a cheap and tasty way to fill up and can be found throughout the city, and is more affordable and of a better quality away from the tourist areas. Look for signs advertising home-made ice cream to sample some of the world's best gelato - if you find yourself queueing with Italians rather than tourists then you may have struck gold.
What can you do during a short trip?
Visit the Colosseum - step back in time and learn the fascinating history of the infamous roman gladiators. With this stunning architecture and breath-taking size, it's understandable why visitors flock from around the world to visit this great attraction.

You cannot visit Rome without a trip to the Sistine Chapel, its ceiling was painted by Michelangelo between 1508 and 1512. Marvel at the intricate beauty of the architecture and its fine works of art. Note that you must cover your shoulders and knees before entering and you can't take photographs inside.

Take a trip to St. Peter's Basilica and be truly overwhelmed by its structure, art and ambience. Its sheer size alone will leave you breathless. Pay close attention to the details of Michelangelo's great dome and the altar of St. Jerome. Entry is free however arrive early to avoid the queues and get through the security check quickly.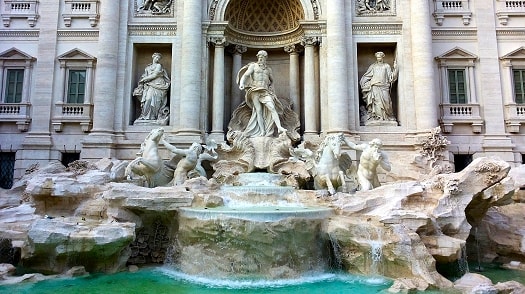 By night it's a must to visit the stunningly beautiful Trevi Fountain all lit up and don't forget to throw a coin in. If you throw the coin with your right hand over your left shoulder, with your back to the fountain it's believed that you'll return to Rome again. Have some authentic Italian cuisine before having a stroll around Rome by night. Stop by the art seller stalls in the Piazza Navona and have your caricature done it's such fun.


The Roman Pantheon is without doubt the most preserved and influential building of ancient Rome. The building was built between A.D 118 and 125 and is a temple dedicated to all the gods of pagan Rome. When you enter the building you will be immediately struck by the shaft of light that streams down from the "oculus", a 9- metre round aperture at the very top of the dome which lightens the whole of the inside of the building. When it rains watch the water magically disappear into the virtually invisible 22 holes in the floor.

The Spanish Steps were built between 1723-1725 and today it's a popular tourist attraction with artists, painters and poets taking up residence. At the base of the steps you can find a baroque fountain called Fontana della Barcaccia, or "Fountain of the Old Boat" and is said to be based on folk legend. The 138 steps climb a steep slope between the Piazza di Spagna at the base and Piazza Trinita dei Monti at the top dominated by Trinita dei Monti Church.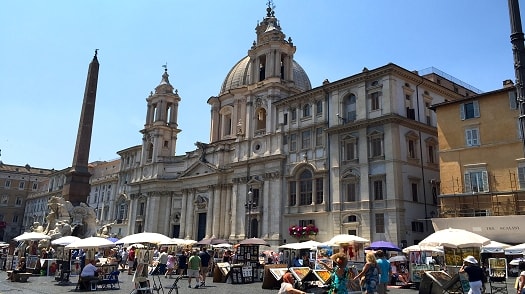 Piazza Navona is probably regarded by many as one of Rome's most beautiful squares. The large and lively square has three magnificent baroque fountains and was originally used for festivals and sporting events. Today the square is pedestrianised and is the home of stylish restaurants, ice cream bars and everyday musical and artistic performances. If you fancy having your caricature drawn then this is the place to come.
Need to know Information
Currency: euro
Time difference: GMT +1 hour
Flight time: from the UK three hours
Airports: Fiumicino / Leornardo Da Vinci or Ciampino

Best time to go:
Tourists flock to Rome during the summer months which means that it can get very busy. Try visiting in spring and autumn and late September tends to see the crowds dwindling, plus the weather can still produce some high temperatures. Avoid Rome during Easter time unless you're visiting for religious reasons.
Must see attractions:
Vatican Museums
St. Peter's Basilica
Imperial Rome - Colosseum, Palatine Hill and Roman Forum
The Pantheon
The Sistine Chapel
The Spanish Steps
Campo de' Fiori
Piazza Navona
Castel Sant'Angelo
Trevi Fountain