San Francisco - California's Top Holiday Spot
Planning a trip? here's the best time to go.

San Francisco is all about strolling the familiar visitor areas such as Fisherman's Wharf and Pier 39, Jumping on the tour boat across to Alcatraz and taking a few shots from the front seat of the famous cable cars. San Francisco is more than a tourist attraction, what is incomparable is the sheer breadth of its neighbourhoods, its distinct pockets of ever-more-local culture. Within a relatively compact 40 square miles one can find showy Victorian manses and elegant Art Deco skyscrapers; the sprawling, oasis of Golden Gate Park, along with some amazingly good museums; coffee shops and restaurants where much of the food is made by hand from sustainable, local ingredients.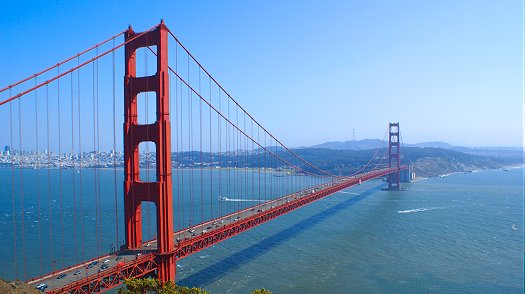 San Francisco has a mild climate, with cool, wet winters and dry summers. In most months, you can expect the high temperature to be in the upper 50s, 60s or low 70s degrees Fahrenheit (between 15 and 25 degrees Celsius). Essentially San Francisco is never warmer than 73 degrees but never colder than 50 degrees.
Summer days usually start out under fog, slowly burning off towards the ocean into a sunny albeit windy afternoon. Measureable rain during the summer months is rare, although light drizzle is possible. Humidity is very constant, but rarely uncomfortable. At late afternoon, when the fog and wind returns people generally find themselves needing a jacket (and this is summer!). There are some days when the fog lingers all day.
Walking can be an enticing option to get from one neighbourhood to another, so long as you are aware of where you are. San Francisco is a city of friendly neighbourhoods, but it is also a big city so be aware of your surroundings and keep in mind the dangers that commonly accompany a city of San Francisco's size.
If you are walking remember that the streets in San Fran often go straight up and down and may make walking challenging when attempting the uphill portions (but provide good exercise). Driving can be difficult and a bit scary up and down the hills but have breath taking views.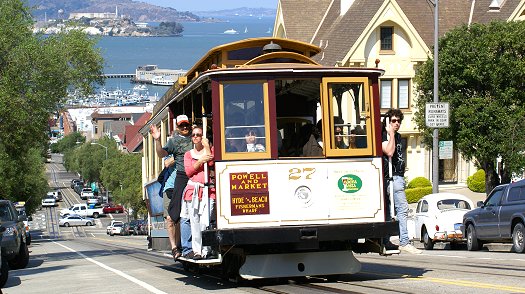 Looking for food is very easy in this city. You can find just about any food you like, a place where trends are set and culinary diversity rules. Since the 1849 gold rush flooded the city with foreign flavours, residents' appetites for exotic eats haven't diminished by even one bite.
For the sight seer there's the world-famous attractions (Golden Gate Bridge, Fisherman's Wharf, Alcatraz Island, museums, China Town, Union Square, Lombard Street, Nob Hill, wine country, etc.), Festivals, Events, Entertainment, Sightseeing and loads, loads more.
Top tip for getting the cable car. Don't stand in the endless line going up Hyde from just below Ghirardelli Square. Instead, head over to Mason and Bay Streets, where lines are much shorter. You'll end up at Union Square on either line. If you just want to ride for the fun of it, get on the California line where California Street intersects Market near the Ferry Building and get off at the top of the hill in Chinatown.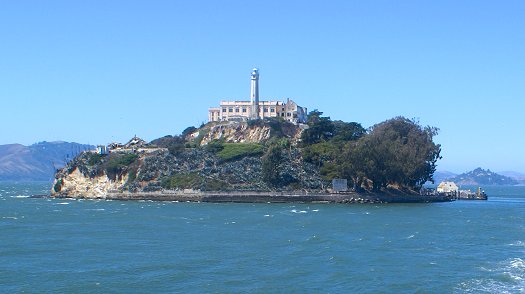 If you're planning on enjoying most of these things to do in San Francisco, a multi-attraction pass could save you a lot of money. They're pretty simple in concept: buy a pass for a fixed price and it gets you into a list of San Francisco-area attractions. The San Francisco CityPass is good for 9 days and includes a 7-day transportation pass that you can use for buses, trolleys and the cable car. However, many of its other attractions are museums - which you may or may not enjoy.
The San Francisco Go Card includes many attractions that have admission fees, except Alcatraz. It offers a wider range of activities than CityPass, but includes only one, one-way cable car ride. If you want to take guided tours or plan to go out of town to Napa or Monterey, it offers attractions in those areas, too.