Thailand - The land of smiles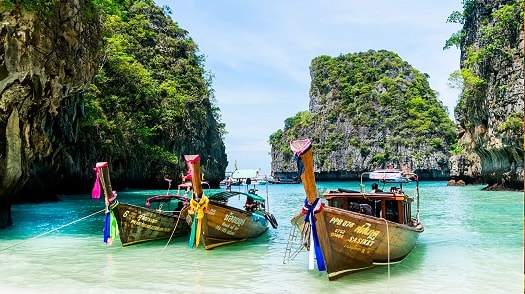 The welcoming Thai people
Thanks to the welcoming nature of the Thai people Thailand is known as the 'Land of Smiles', once you experience Thai hospitality, it will soon be apparent why. There is so much more to the country than friendly faces. In fact, it's impossible to sum up Thailand in a nutshell, because every part of it is different. This destination is so diverse, whether you're travelling as a family, looking for that romantic getaway or a honeymoon that you will never forget, Thailand will not disappoint. Each resort as something different to offer, from the culture of the temples and of course the unspoilt beaches.

Travelling around Thailand and combining multiple resources or islands is easy to do. Combine the bright lights of Phuket with a stay in Khao Lak and then head inland to Khao Sok before heading to Koh Samui, all the time admiring the beautiful scenery on route and the unique experience at each stop.

From the temples and street food to the pristine beaches and luxury hotels, you've got every excuse for spending a great holiday in Thailand.
Buddhist culture
At the heart of everything, there are shrines, temples, and monasteries known as 'wats'. The seeds of Buddhism were planted in the country at the start of the 13th century, and the crop of holy sites spreads from border to border.
Beaches and islands
Why not explore the coast. In the Krabi province alone, there are 150 km worth of beaches. The Sandy beaches are backed by photogenic rock formations. The backdrop in the Khao Lak area will take your breath away. The beaches in this part of Thailand lie alongside national parks a few hundred metres from the shoreline. On Phuket Island meanwhile, you'll find a real mix. While the crowd less beaches in Mai Khao let you live in incognito for a while, the ones in Patong invite you to take part in a permanent party. Thailand offers you the opportunity to mix-and-match your beaches. It won't take you long to find your own idyllic retreat, with untouched sandy coves and miles of white sandy beaches dotted along the coastline, but why not twin Krabi or Phuket with Phi Phi for two different experiences.
Things to see and do...
Temples and palaces
A trip to Thailand would not be complete without touring the beautiful and fascinating temples and palaces such as The Grand Palace in Bangkok and the ancient Imperial cities of Ayutthaya and Sukhothai.
Walk with monks of the Grand Palace
The Grand Palace is the Thai equivalent of Buckingham Palace. It's been the official residence of the kings of Siam since the 18th century. But, unlike the British royal residence, entrance to this palace isn't by invitation only. You can walk around the hushed grounds, taking in the dwarfing Buddha statues, and the orange-robed monks who wander meditatively around the complex. Be warned though that it can get very busy at times and long queues can form to see the palaces.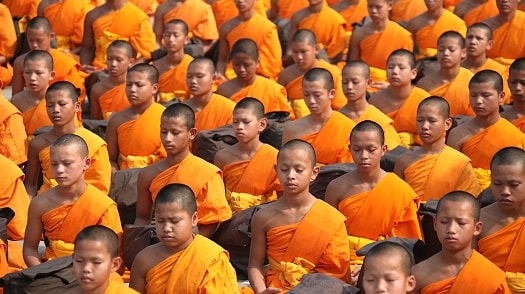 Explore Khao Lak Lam Ru National Park
Khao Lak Lam Ru National Park is the sort of place you would expect to find in one of David Attenborough's wildlife films, Malayan porcupine and monitor lizards are all residents in the tropical forest here. Take a Long boat trip along the Khlong Thap Liang estuary or follow the walking trails to catch a glimpse of them, then return to the visitors centre to dine in the open air restaurant.
Indulge in a Thai massage
Most tourists to Thailand at some point indulge in a Thai massage and it's well worth adding this to your trip itinerary. Let one of the experienced therapists pummel all your worries away in a cabana on a beach like Patong or Kamala. You could upgrade the experience at one of Phuket's spas. One of the most highly recommended places to visit is 'The Hideaway' on Na Nai Road. Some of the treatments on offer here are inspired by temple methods more than 1,000 years old.
Sail to the Phi Phi Islands.
You may not have heard of Maya Bay but you will certainly know it when you see it as this is where Lee DiCaprio filmed the hit movie 'The Beach'. It's also not surprising to find that most boat trips to the Phi Phi Island include a visit to this beauty spot. Other voyages tick of the beautiful sands of Bamboo Island, the huge Viking Cave, and Monkey Island, which is exactly what it says in the title. The monkeys live in the mountains but have discovered that where there are people there will no doubt be food. If you want to see the monkeys then the best time will be in the afternoon when the beach is shaded by the cliffs.
Wildlife
If you like animals and nature then Thailand is a must place to put on your list. Take a trek in the northern mountains of Khao Sok's National Park or see rice paddies and elephants bathing in the river.
Cuisine
You will find that many of the hotels offer its guests cooking schools where you can learn to cook Pad Thai, Thai green curry or prepare a papaya salad. Alternatively sample the delicious combination of sweet, salty, sour and spicy food at local street stalls, where food is cooked in front of you.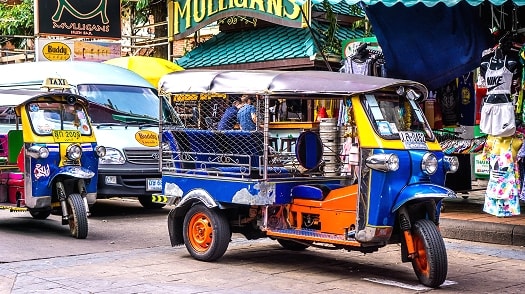 Planning a trip to Bangkok here's the best time to go.

Bangkok
Mixed in with the religious landmarks Bangkok is one of the world's most hectic capitals. Here you will find motorways have 12 lanes, markets have upwards of 15,000 stalls, and restaurants are so concentrated, you'll never be more than 50 meters away from one. Bangkok offers the true Thai experience, a dizzy mix of old and new – ancient golden temples, mystical pagodas, colourful night life and a myriad of markets to explore. With rooftop bars, upscale eateries, fabulous street markets and luxury hotels, this vibrant and contrasting city offers a fascinating mix of traditional and modern.
Highlights of Bangkok
Explore the city sites by river-bus or a tuk-tuk
Discover majestic temples and palaces
Enjoy Bangkok's markets and night life
Take in the sights from Bangkok rooftop bars

Planning a trip to Phuket here's the best time to go.

Phuket
The 'Pearl of the Andaman' and Thailand's largest island, Phuket has breath-taking scenery above and below the water. Soak up the sun and uncover secluded bays along the coast, explore the sleepy villages and traditional markets or venture out on a boat trip to the other bays and islands.
Khao Sok and Khao Lak
One of Thailand's best kept secret's - explore the deserted beaches, crystal clear waters and tropical jungle forest of these two very special islands. There are no high-rise buildings or crowds here, just lush jungle, tumbling waterfalls, serene and sandy beaches. Your very own slice of paradise - perfect for couples, families and diving enthusiasts alike.
Krabi
Krabi's diversity never ceases to impress, with dramatic limestone cliffs, palm fringed beaches and shallow, crystal waters. Tranquil and stylish, it is also great for snorkelling and diving enthusiasts. Explore caves and temples and take a long-tail boat to uninhabitable offshore islands to see strange iconic rock formations. Meander through 'Walking Street Market' for handicrafts, sumptuous Thai food and nightly entertainment.
Pattaya
Once a sleepy fishing village, Pattaya is now a world-class destination and Thailand's liveliest resort. With excellent water sport facilities, markets and nightlife there is plenty to keep you occupied by day and night. Easily accessible from Bangkok, is vibrant city is perfect for couples and families looking for fun in the sun, as well as the perfect stop off before heading to the island of Koh Samet.
Need to know Information
Approximate flight time from the UK: 11 hours
Destination airports: Phuket
Key resorts: Phuket, krabi, Khao Lak
Language: Thai and English
Currency type: Thai Baht
When to go?
Temperatures in Thailand can vary slightly and are not always predictable. Generally, December to March is the best time to visit. Average temperatures at this time of year range from 31° to 34°, although Sea breezes keep things a couple of degrees cooler in Phuket and Khao Lak. The temperatures aren't too dissimilar in November and April, although you can expect a day or two of rain.