Australia - Land Of The Kangaroo....
Planning a trip? here's the best time to go.

Where do you start with a country as vast and varied as this. Situated at the other side of the world, it takes 22 hours and 10,565 miles to get there from the UK. Flights to Australia are pretty reasonable and there is a choice of airlines to get you there. You can always stop off en route at Bangkok, Singapore or Hong Kong to break the journey up. Sydney is the gateway to Australia that most visitors include in their itinerary. Sydney is Australia's oldest and largest city with a staggering array of sights from the Opera House, the harbour bridge to the renowned golden sands of Bondai Beach. Many are impressed by the scenery of the nearby Blue Mountains while others enjoy Sydney's sights on the back of a Harley Davidson. For the really adventurous the Sydney Harbour BridgeClimb is a once in a lifetime experience as you climb 134m above sea level for an uninterrupted panorama of the city and surrounds.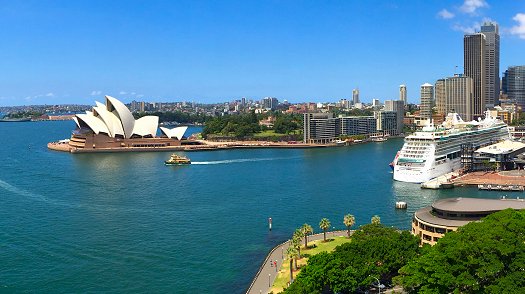 A visit to the Queen Victoria Building with its lavishly restored market place housing exclusive shops and restaurants is a must for any traveller. At the renovated Rocks Quarter, you'll get some idea of how the first settlers lived back in 1788. There's the new Darling Harbour complex that's filled with attractions including the powerhouse museum and Chinese gardens, shops and a selection of restaurants. Plan what to see and do in Sydney with the hop on and hop off bus tours. These depart regularly and visit all of Sydney's must see attractions for a very reasonable price. Harbour City Ferries, is an easy way to get to Balmain, Double Bay, Manly, Parramatta, Taronga Zoo, Darling Harbour and Cockatoo Island. Sydney Opera house runs daily 1 hour tours where you can step inside this iconic landmark and discover the stories and history behind Danish architect Jorn Utzon's remarkable achievement. Tours run in many different languages and if you're lucky enough you might just get to see the Sydney Symphony Orchestra rehearsing.
Australia is not only about Sydney though, the country is brimming over with amazing places to visit. There's Adelaide, Tasmania, and Melbourne to the South. Brisbane, Cairns and the Great Barrier Reef to the east. Darwin to the north, Perth to the west with Alice Springs and Ayres Rock dominating the centre. A two week holiday is nowhere near enough time to be able to see what all these fascinating places have to offer.
The Australian mix of cultures means that you'll find cuisine of every description from Chinese to Italian. Then of course there is the great Australian barbie! The climate is perfect for outdoor entertainment most of the year and al fresco dining is very much a part of the lifestyle. A great way to end a day of sightseeing is with a can of ice-cold beer and a steak on a traditional Aussie barbi underneath the night sky. Many visitors head to Ayers Rock to see the sunset with nibbles and glasses of champagne. A trip down under is sure to be a lifetime experience and many people that have visited make it a place to come back to.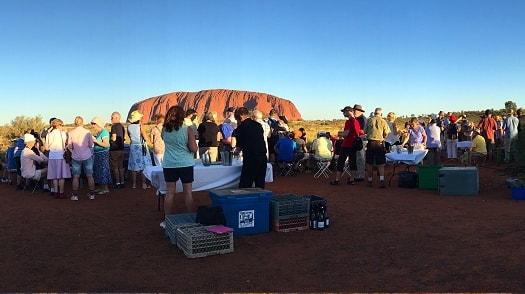 Melbourne
Be sure to visit Melbourne the capital of the south eastern state of Victoria. Here you can visit the modern Federation Square development, with plazas, bars, and restaurants by the Yarra River. Take the kids to Melbourne Zoo with over 320 animal species from Australia and around the world. The old Melbourne Gaol is now a place to witness first hand at how early convicts were housed including the infamous citizen, the bushranger Ned Kelly.

For the sporty types The Melbourne Cricket Ground, also known simply as "The G", is an Australian sports stadium located in Yarra Park, and is home to the Melbourne Cricket Club. Take a ride on one of Melbourne's trams that date back to 1889. There's 25 routes and 493 trams to whisk you around the city. Melbourne is a great location to take a scenic drive along the Great Ocean Road and see the famous 12 Apostles rocks.
Adelaide
Adelaide is another place for sports fans to visit as it's home to the world's prettiest cricket ground the Adelaide Oval. The ground hosts interstate and international cricket matches in summer, plus national AFL football and state football games in winter. Kids will love a trip to the world famous Adelaide Zoo with 1,800 exotic and native mammals, birds and reptiles. There's a kids zoo as well as feeding sessions and free walking tours.
Alice Springs
In the centre of Australia is Alice Springs located halfway between Darwin and Adelaide, both 1,500km away. Alice Springs can be reached easily by air or by the legendary Ghan Train. A visit to the Flying Doctor Service will give you an insight to the medical life support for the people living in this extremely remote part of the country. The Overland Telegraph Line (linking Darwin and Adelaide) is preserved in the vintage buildings and equipment at the Alice Springs Telegraph Station Historical Reserve. In Alice Springs temperatures can vary dramatically, with an average maximum temperature in summer of 35.6 °C (96.1 °F) and an average minimum temperature in winter of 5.1 °C (41.2 °F). It can also reach a roasting 40 °C (104 °F)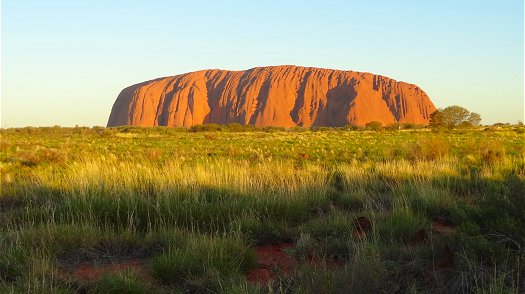 Uluru - Ayres Rock
Ayres Rock or to give it its proper aboriginal name Uluru is a huge sandstone rock that stands in the 'red centre' the heart of the Northern Territory 450km away from Alice Springs. The rock is a sacred place for the indigenous Australians and it is believed that it formed some 550 million years ago. A World Heritage site, Ayers Rock rises 350m above ground and has 10km of pathways around its base that you can explore. Most visitors observe the rock during sunrise and sunset, when its terracotta hue morphs into a violet / blue tinge.
Cairns
Cairns located in the north east of Australia is a modern and vibrant city and the gateway to the Great Barrier Reef, Port Douglas and the Daintree Rainforest. Travellers use Cairns as an ideal base to explore the wonderful attractions Tropical North Queensland has to offer. No visit to Cairns is complete without spending time at the Great Barrier Reef, the world's largest coral reef system - made up of nearly 3,000 individual reefs over an area of 344,400 square kilometres (133,000 square miles). UNESCO listed the Great Barrier Reef as a World Heritage Site in 1981 and it's an amazing place to go snorkelling or diving on. Travel 15 miles inland and you will be surrounded by a World Heritage Rainforest at Kuranda. This picturesque "Village in the Rainforest" provides a cool, high altitude retreat. Ride the Skyrail Rainforest Cableway and Kuranda Scenic Railway as they both offer an amazing journey up the rain forested-flanks of the Macalister Range.
Perth
Moving across to the opposite side of Australia on the western coast lies Perth the capital and largest city in Western Australia. Visit the biggest city park in the world, King's Park and Perth Botanic Garden, with its enchanting wild flowers and bushland, and amazing views over the city's skyline. 30 minutes from Perth lies the port town of Fremantle with its fascinating Maritime Museum, Fremantle Prison, the Arts Centre and Old Courthouse. Cruise along the Swan River and see the Millionaires Mansions. If you have time visit the wineries or Nambung National Park to take a glimpse of the fascinating limestone formations known as the Pinnacles.
Darwin
Darwin is the capital of Australia's Northern Territory and is known for its laid-back fusion of frontier outpost and modern city. Take time out to visit the Defence of Darwin Experience, an immersive, interactive multimedia experience telling the story of Darwin's role in World War II – a very important time in Northern Territory history. Alternatively Litchfield National Park has thundering waterfalls, rainforest pockets and sacred sights. Discover the history, intrigue, shipwrecks, mangroves and the natural environment on a Darwin Harbour cruise.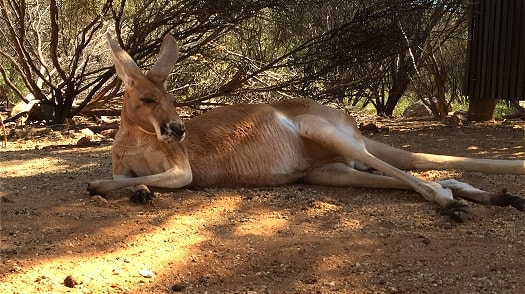 Visa's are required for Australia and these can be obtained from the Australian consulate or via your travel company. Visiting Australia isn't complete without experiencing the Aboriginal culture expressed through rock paintings and carvings. Enjoy aboriginal art, dance and culture. Take the tour with an Aboriginal guide where you can learn about the Dreamtime and hear the creation stories of this great land. You can even try your hand at playing a didgeridoo. Travel into the bush for a bit of camping under the stars with just a sleeping bag, watch the kangaroos in their natural environment, cuddle a koala bear, go diving with the dolphins, go swimming on the Great Barrier Reef there's so much to see and do.
Australia has it all from history, shopping, scenery, wildlife, sightseeing and nightlife in abundance. Take a trip down under and have one of the most magical holidays of a lifetime.