Turkey has it all and more!
Planning a trip? here's the best time to go.

Located on the Mediterranean Sea just over a 4 hour flight away this country is a real favourite place for a holiday getaway. The people, the food and, of course, the climate are just a few reasons why holidaymakers love to holiday in Turkey. Let's look at a few more reasons why so many visit this beautiful country.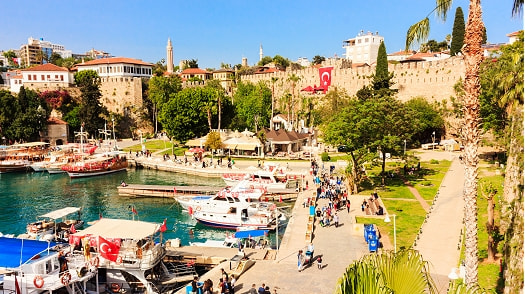 A few facts about Turkey
Ankara is the capital city of Turkey and the currency is the Turkish Lira. Istanbul is the biggest city and is mostly located on the Asian continent, but a few percentages of the total city area is also located in Europe, which makes it unique since it's built on two continents.

99% of Turks are Muslim and there are 82 693 Mosques in the country. The ancient city of Troy was located in modern day Turkey. Turkey is famous for the Döner kebab and Turkish delight. If you are a shopperholic then a trip to Istanbul's Grand Bazaar, or Kapalı Çarşı, is right up your street. This Bazaar dates to 1455 and was established shortly after the Ottoman conquest of Constantinople. Over many centuries it has grown into what could be described as a small town in itself with 61 streets lined by more than 3,000 shops and currently occupies an amazing 333,000 square feet. Many visitors have set out with the intention of exploring it all but fail miserably but that never stops them from trying.

Saint Nicholas was born in Patara and it's believed that the Virgin Mary's resting place could be near Ephesus. Saint Paul was from Tarsus in the south while the Biblical Prophet Abraham was born in Şanlıurfa. Scientists and explorers also believe that Noah may have landed his ark at Mount Ararat.
UNESCO World Heritage sites
Turkey is full of culture, ancient history and fascinating sites and there are an incredible 18 UNESCO World Heritage sites across the country. Many can be found in is Izmir such as the ancient city of Pergamon, with its Acropolis, city walls and Temple of Trajan. Also here is Ephesus, which is one of the Seven Wonders of the Ancient World and is thought to be one of the best preserved Roman towns in the world. In the Antalya region there is the pretty town of Side, which is full of treasure troves such as the Vespasian Gate, temple of Apollo, the Greek amphitheatre and an archaeological museum housed in ancient baths. Whilst over in Bodrum, take the time to explore the castle with its courtyards, dungeons and towers.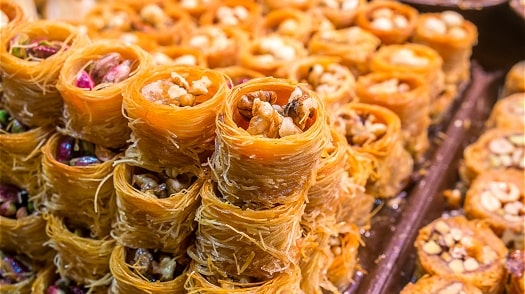 Mouth-watering cuisine
Turkish food is simple and healthy and draws on ingredients such as lamb, beef, fish, rice, nuts, aubergine, peppers and onions, all infused with a wonderful concoction of herbs and spices. The most famous food from Turkey has got to be the Döner kebab and the Turks do several kinds of kebab. Turkey was the birth place of the kebab and without doubt they are still the best ones to make it! If you're a tea drinker you will be in good company as at least 96% of the population drink at least 1 cup of tea a day. It's estimated that Turks consume 3 kilos of tea per person a year. So a visit to Turkey would not be complete without sampling a traditional tea experience.

For the adventurous why not try the signature Ottoman treat called tavuk göğsü. This delicacy is simply a chicken breast pudding. It may appear like a strange concoction of boiled chicken, sugar, and milk that's dusted with cinnamon, but it's delicious.

For the sweet tooth why not try a famous Turkish Baklava (pic above) it's buttery, flaky puff pastry soaked in honey and sugar with tender pistachios stuffed between layers of dough.

We suggest you head to the marina in Icmeler where there is a wide choice of bars and places to eat from market romantic waterfront restaurants to relaxed great value cafes. Overlooked by 14th century Ottoman castle, it is also home to 750 yachts and the odd ocean liner.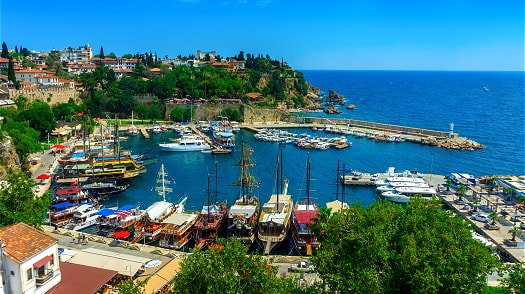 Amazing scenery
Aside from the beautiful beaches, Turkey offers some of the most stunning landscapes you're ever likely to see. In the mountains about 40 minutes drive from Fethiye is Saklikent Gorge, home to majestic an awesome views. Or take a walk along Lycian Way, a trekking path starts near Oludeniz and stretches East 509 km to Antalya. Leading through magnificent scenery, it also meanders through tiny hamlets and villages, farmland and forest, offering a unique perspective on the countryside. İztuzu Beach, just west of Fethiye, is a major breeding ground for the endangered loggerhead sea turtle. If you want to see them come asore to lay a new generation of eggs the best time is between May and October.
It's a golfer's paradise
One of the fastest growing golfing regions, Antalya is the glistening green paradise. Golf enthusiasts will love the international standards courses to play such as the prestigious PGA Sultan, The lykia Links and Montgomerie Maxx Royal, which is previously host of the Turkish open. Fantastic facilities, outstanding service and miles of beautiful beaches make Antalya the perfect golf getaway.
Keeping the whole family entertained
Turkey has a fantastic range of hotels and places to stay. Facilities within hotels can include various outdoor pools, professional entertainment, cinemas, fun fairs, bowling alleys, a range of kids clubs, water parks, à la cart dining, spas, golf courses, sports academies, shops, football pitches… The list goes on!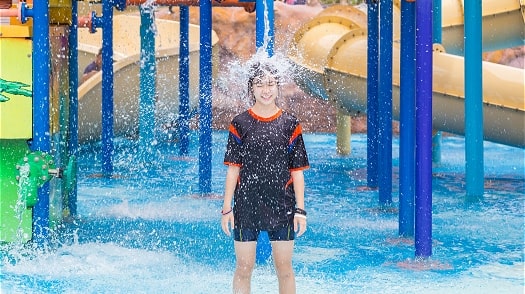 Theme parks and water parks
Turkey is a great, all-year round family holiday destination with stacks of entertainment and fun. Many of the hotels have their own theme parks and water parks on site, making it super easy to get your thrills. For something quite unique, check out the Land Of Legends Kingdom Hotel in bustling Belek, Antalya, which combines a five-star hotel with a theme and waterpark, all located under one roof. The water boasts a staggering 41 slides, a water coaster as well as a 5D cinema.

Alternatively, the Hilton Dalaman Sarigerme Resort And Spa, Sarigerme, is a luxury five-star resort, which cleverly combines a world of pure indulgence with a range of superb activities guaranteed to keep the kids and adults entertained all day. There are five amazing outdoor pools as well as an Aqua park that has a fabulous array of slides.
Feel good spas
Spa holidays are becoming increasingly popular and Turkey is home to some amazing spa retreats including the Maxx Royal Kemer Resort with its 4,000m² spa and the Rixos Premium Bodrum with its Thai-inspired spa!