Tenerife - "The Island of Contrasts"
Planning a trip? here's the best time to go.

A little over four and half hours flying time takes you to Tenerife one of the four islands that make up the Canary Islands. The name Canary Island has nothing to do with little yellow birds but comes from the Latin word for dog. Tenerife is the largest and probably the most popular island, basking in an all year round climate just off the north west coast of Africa. The temperatures vary only slightly throughout the year as the gulf stream warms the atmosphere in winter and the trade winds cool the island in summer.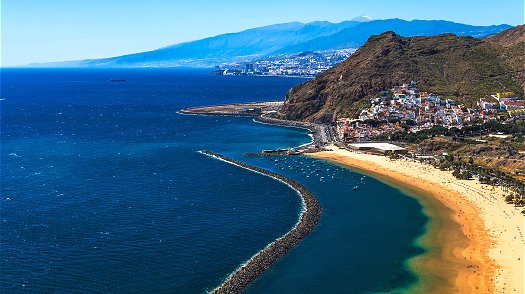 The island is divided across the middle by a range of mountains which give the island two distinctly different climates. In the north there's lush tropical beauty whereas to the south its an arid, barren volcanic landscape. between the two distinctly different resorts is Mount Teide, at 12,000 feet it's the highest point in Spain. A cable car runs almost to the top where a spectacular view of the island can be obtained. Mount Teide is a constant reminder of Tenerife's volcanic past where scenes from planet of the apes were filmed on its slopes in the lava encrusted landscape.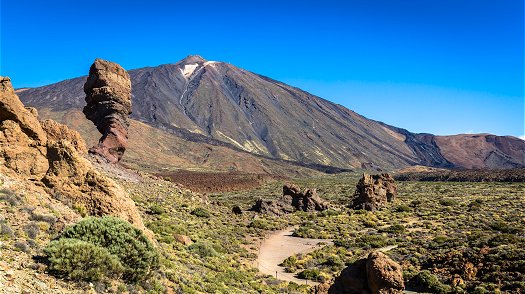 In the north you'll find Puerto De La Cruz with its more sophisticated atmosphere and fantastic scenic views. Check out the Lido Martinez, eight acres of rock pools, fountains and lagoons mixed in with sunbathing terraces and restaurants. If you fancy a round of golf then the island can offer three, eighteen hole courses for you to have a go at. In the south families enjoy Playa De Las Americas for its excellent facilities endless watersports, varied entertainment and popular waterpark. It's also the first choice for young couples who return for the staggering choice of bars, restaurants and non-stop nightlife. There's also a wide range of sundrenced beaches, scuba diving, water-skiing, parascending, jet-skiing, banana boats, pedaloes the list goes on.
Siam Park, provides fun for all, whether you're travelling alone, with your children or with friends and family. Ride the waves along the world's longest lazy river and if you're brave enough, experience the jaw-dropping Tower of Power - a 28 meter almost vertical drop. Loro Park in Tenerife is rated the best zoo in Europe by TripAdvisor. There are dolphins, silverback gorillas, a colony of penguins and plenty more at this world-famous animal conservation zoo.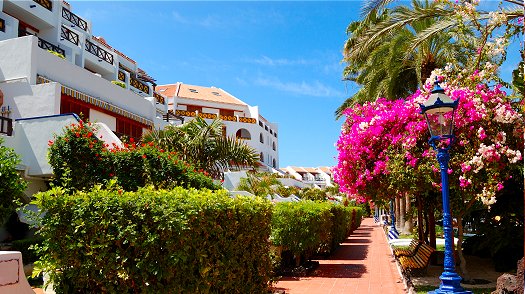 Tenerife caters for all kinds of tastes. Local dishes include papas arrugadas - little wrinkled potatoes boiled in salt water and served with a fiery paprika sauce. There's also potaje - Canarian soup with vegetables, very similar to a stew. They also produce a gooey liqueur made from bananas that grow everywhere on the island. Of course there is a wide choice of international cuisine and if you really must there's the British favourites like sausage, egg and chips.
The Canary Islands are duty free and the biggest bargains are on spirits, perfume and tobacco, Canary Island cigars are also very popular. From the dramatic scenery in sophisticated Pureto de La Cruz in the north to the hot sunshine and lively nightspots in Playa De Las Americas to the south.
The island has everything needed to make for a fantastic holiday vacation.
Speaka Da Lingo
It's fun to try out the local lingo when on holiday and in Tenerife it's Spanish. It can take a bit of a nerve but give it a go with some of our common Spanish phrases.

Yes - Si
No - No
Thank you - Gracias
Please - Por favor
Good morning (until midday) - Buenos dias
Good afternoon (12pm - 7pm) - Buenas tardes
Good evening / night (7pm onwards) - Buenas noches
How are you? - Cómo está?
My name is...? - Me llamo...
How much is...? - Cuánto vale...?
Please can you help me? - Por favor, me puede ayudar?
Please may I have a beer? - Por favor, me pone una cerveza?
Please may I have a latte? - Por favor, me pone un café con leche?
Where is the beach? - Dónde está la playa?
Where is the hotel...? - Dónde está el hotel...?
What's your name? - Cómo te llamas?
Where are you from? - De dónde eres?
Where is the bus stop? - Dónde está la parada del bus?
Can I have the bill, please? - La cuenta, por favor?

Go on give it a go. A little really can go a long way, the warm smiles you will receive from the locals as they appreciate you making an effort will make it all worthwhile!


Check out these web sites for more details...
All about Tenerife

Read More
Tenerife tourist guide

Read More