The PPL Top 20 Christmas Songs....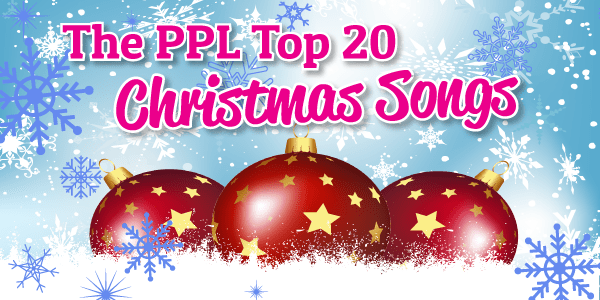 The PPL top 20 Christmas songs played on radio stations in the last decade.
PPL have released a list of the top 20 most played songs in the last decade.
Mariah Carey's All I Want For Christmas Is You, tops the list, followed by Wham, The Pogues, Slade and Wizzard.
Eight of the top twenty are from the 80s, but the biggest seller - Band Aid's Do They Know It's Christmas - sits just outside the top 5.
Jonathan Morris from PPL said: "First of all, looking at the top twenty, these are all real mood-makers and very evocative. They have a sound – listen to the bells and tambourines! – and a feel and, in short, they are just great recordings! Stop somebody in the street and ask them what their favourite Christmas song is and, pretty much, they would choose one from the PPL top twenty.
He added: "At Christmas we embrace tradition and music is a very powerful and engaging way to enforce that feeling. Music really helps define this time of year – be it songs that radio broadcasts because that's what people want to hear or the songs retail use in store because of their mood-enhancing power. Christmas without Christmas music would be unimaginable!!"
Here's the list in full...
1 All I Want For Christmas Is You - Mariah Carey
2 Last Christmas - Wham
3 Fairytale of New York - The Pogues
4 Merry Xmas Everybody - Slade
5 I Wish It Could Be Christmas Every Day - Wizzard
6 Do They Know It's Christmas? - Band Aid
7 Driving Home For Christmas - Chris Rea
8 Stop The Cavalry - Jona Lewie
9 White Christmas - Bing Crosby
10 Let It Snow! Let It Snow! Let It Snow! -Dean Martin
11 I Believe In Father Christmas - Greg Lake
12 Wonderful Christmastime - Paul McCartney
13 Merry Christmas Everyone - Shakin' Stevens
14 Step into Christmas - Elton John
15 The Power of Love - Frankie Goes to Hollywood
16 Happy Christmas (War Is Over) - John and Yoko
17 Rockin' around the Christmas Tree - Brenda Lee
18 Winter Wonderland - Darlene Love
19 Stay Another Day - East 17
20 2,000 Miles - The Pretenders