Elvis Presley - All You Ever Wanted To Know....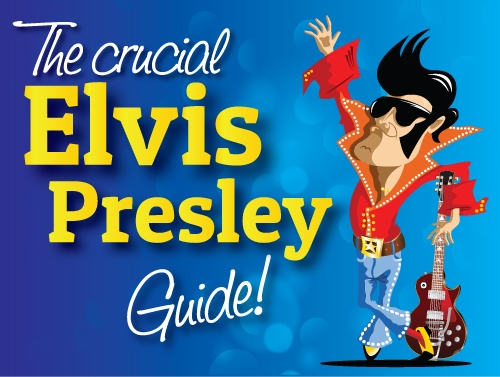 Born: January 8, 1935, Tupelo, Mississippi
Died: August 16, 1977, Memphis, Tennessee
Height: 6'0" (1.82m)
Weight at birth: 5 pounds
Weight at peak of career: 165 pounds
Weight at death: About 260 pounds
Shoe size: 11D
Shirt size: Neck 15 1/2-16
Motto: TCB (Taking Care of Business) Church: First Assembly Church of God in Memphis
Favorite toothpaste: Colgate
Favorite after-shave: Brut
Favorite drink: Pepsi Cola, Mountain Valley Water
Favorite foods: Peanut butter & banana sandwiches, mashed potatoes, burned bacon, grape jelly, cheeseburgers, pork chops, sauerkraut
Eating capacity: In his 20s, Elvis told Country Song Roundup Magazine he could polish off eight deluxe cheeseburgers, two bacon-lettuce-and-tomato sandwiches and three milkshakes in a single sitting.
Favorite hobbies: Go-carting, karate, numerology, reading, gospel singing, touch football Favorite board games: Yahtzee (the score pads he and Priscilla used are on display at Elvis's Memphis restaurant), Monopoly
Favorite collectible: Official badges. He had police badges from almost every city he sang in and a federal narcotics badge from President Richard M. Nixon.
Second favorite collectible: Guns. There were nearly 40 weapons of various kinds in the Presley arsenal, including M-16s and other rifles, automatic pistols, derringers and a Thompson submachine gun.
Elvis's first cars: 1951 Lincoln Continental (wrecked by band member Bill Black) 1940s Cadillac sedan (burned) 1955 Cadillac Fleetwood four-door (the infamous pink Cadillac, although it was blue before Elvis bought and painted it) Collection of cars and motorcycles eventually included several Cadillacs and Harley-Davidson motorcycles
Alternate careers he considered: Electrician, truck driver, law enforcement officer
First girlfriends: High school sweetheart Dixie Locke, actress Natalie Wood, showgirl Marilyn Evans, aspiring actress Anita Wood
Last girlfriend: Ginger Alden
The Word Elvisology is the official Graceland term for historical and statistical information on the life and career of Elvis.



Elvis Week 2024 August 9 - 17
Every year during the week surrounding the anniversary of his death, Memphis celebrates the music and life of Elvis Presley. Here is a guide to the current year's events (updated each January) honoring the King of Rock and Roll.
Elvis Week 2023 August 9 - 17 - Candlelight Vigil Recap
Elvis Week 2022 August 9 - 17 - Candlelight Vigil Recap
Elvis Week 2021 August 11 - 17 - Candlelight Vigil Recap
Elvis Week 2020 August 8 - 16 - Candlelight Vigil Recap
Elvis Week 2019 - August 9-17 Candlelight Vigil Recap
Elvis Week 2018 - August 11-18 Candlelight Vigil Recap
Elvis Week 2017 - August 11-19 - Candlelight Vigil Recap
Recap of Elvis Week 2016 - August 10-16
Recap of Elvis Week 2015
Recap of Elvis Week 2014
Memphis Jones joins fans during Priscilla Presley's interview at Conversations on Elvis and chats Elvis' fellow musicians and friends. He wraps up the evening with the 2014 Candlelight Vigil where thousands of Elvis fans gathered at the gates of Elvis Presley's Graceland.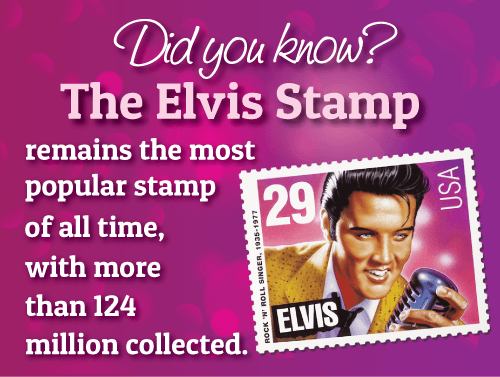 Elvis 80th Birthday Celebration Jan 7th - 10th 2015
Elvis' 80th birthday was celebrated on a grand scale, with cake, family and hundreds of fans. Re-Live the 2015 Birthday Celebrations with this short video.


What would Elvis have looked like today if he was still with us?
This computer-generated image shows what the singing legend, who died in 1977 aged 42, might have looked like if he had lived to see his 80th birthday.

Photography website Phojoe.com took advantage of the same forensic software used to solve crimes and find missing children to age a picture of the young star.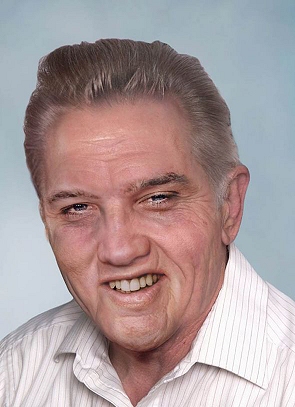 Find out more about Elvis Radio, Elvis Impersonators and more.
Elvis Presley recorded more than 700 tracks in his lifetime. The Times online tried to select the 50 best songs he ever made. See if you agree.

Read More





For all the very latest News about the world of Elvis click on Elvis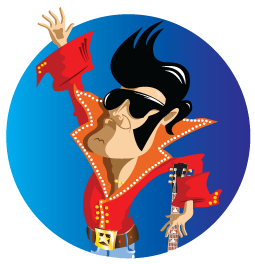 Take The Elvis Quiz......
So How Much Do You Know About Elvis? Before we go any further, let's see how much you know. Take this short quiz on Elvisology to improve your confidence. The answers are at the bottom of the page.
1. Who's the King of Rock and Roll?
2. What instrument did Elvis play?
3. Where is Graceland?
4. Who was Colonel Tom Parker?
5. Who's the most famous dog in rock and roll history?
6. Who was Elvis' only wife?
7. Who is Elvis' only child?
8. What was the name of the studio where Elvis made his first recording?
9. Who are the Memphis Mafia?
10. Why was Elvis referred to as "Elvis the Pelvis"?
11. In what movie did the jailbirds rock?
12. What's the most famous hotel in rock and roll history?
Don't Know Much About History....
Here's an overview of Elvis' life and career:
Elvis Presley was a singer, guitarist, and actor. As a rock and roll idol from the '50s through the '70s, he influenced music for an entire generation. In the words of the historical marker that stands outside the house where he was born: "Presley's career as a singer and entertainer redefined popular music." Born in humble circumstances in Tupelo, Mississippi, in 1935 to blue-collar parents, Elvis was the survivor of identical twins. When Elvis was 13, Vernon and Gladys Presley moved the family to Memphis, Tennessee, where he was exposed to a variety of musical styles, including rhythm and blues and jazz. He worked as an usher at a movie theater, a truck driver, and a warehouseman before beginning his show-business career, arguably the most remarkable in modern history.
Elvis' very first single was in 1954: "That's All Right"/"Blue Moon of Kentucky." Elvis recorded several singles for Sam Phillips, owner of Memphis' Sun Studio, and first toured locally as the "Hillbilly Cat," singing in a style associated with black musicians like B.B. King. Signed by RCA in 1955, he became an overnight sensation on radio and in concert halls, singing both up-tempo rock songs and haunting ballads. His performance style featured a commanding voice and a charismatic stage presence sneers, twitches, pelvic gyrations leading to mass hysteria among teenage audiences and threatening parents and religious leaders. In 1956, Elvis, already a millionaire at 21, began his film career. His 33 movies (the last in 1972), vehicles for his singing and personality, were box-office, if not critical, successes.
Elvis once said....
"It's hard to explain rock and roll music. If you feel it, you can't help but move to it. That's what happens to me, I can't help it."
Elvis married Priscilla Beaulieu in 1967. The couple had a daughter, Lisa Marie, in 1968, and were divorced in 1973. With the advent of The Beatles and other artists of the so-called British Invasion in the 1960s, Elvis' popularity declined and he cut back dramatically on personal appearances, concentrating on his films. Elvis made a stunning comeback as a rocker with an electrifying TV special, simply titled "Elvis" and broadcast on December 3, 1968. In the early '70s, Elvis resumed touring and achieved great success, especially in Las Vegas. A new generation of fans were won over with a new series of hit records. During his lifetime, he sold some 600 million singles and albums.
Many people thought Elvis was an alcoholic? Because of the later Elvis' stout, bloated appearance, many people assume that he abused alcohol. Nothing could be further from the truth. Elvis, adhering to his God-fearing roots, rarely took a drink of anything alcoholic.
In Elvis' final years, he struggled with a weight problem from a steady diet of junk food. After his death of a heart attack at age 42 in 1977, it was revealed that he had been dependent on stimulants and depressants, many of them prescribed. Elvis' popularity endured, however, and a culture has arisen surrounding reported sightings and impersonators. His primary home in Memphis, Graceland, has become a shrine to fans, visited by millions. For the Record Elvis' estate earned more money in the year after his death than any while he was alive. RCA sold an astonishing 200 million Elvis records during the year after his death and in the first three years after his death, he earned more money than he did in his entire career.
Quiz Answers: (how well did you do?)
1. Elvis Presley (now how can you miss that one?)
2. Guitar (and piano, by the way, but rarely on stage)
3. Memphis, Tennessee
4. Elvis' manager
5. "Hound Dog" (the hit song)
6. Priscilla Beaulieu Presley
7. Lisa Marie
8. Sun Studios
9. Elvis' inner circle of friends, bodyguards, and hangers-on
10. Because of his gyrations on stage
11. Jailhouse Rock
12. "Heartbreak Hotel" (sorry, not "Hotel California"