50 Greatest Elvis Songs Ever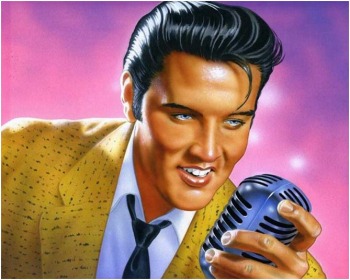 1. HOUND DOG

The intro explodes into your ears, and into the public consciousness, as only A Hard Day's Night and Anarchy In The UK have since. So intense, two minutes of sustained viciousness and sheer malicious glee.

2. SUSPICIOUS MINDS

As a mature and supremely confident Elvis harmonises with himself, you can feel the shackles of Hollywood falling away. The shock of the middle eight ("let our love survive") will make you catch your breath

3. MYSTERY TRAIN

Singing high and free, even a runaway train can't take his gal away. Scotty Moore and Bill Black never played better, but Elvis's whoop of delight at the end takes the cake.

4. HEARTBREAK HOTEL

A freaky but inspired choice of first 45 for a major label. To enhance the atmosphere of seedy desolation, Elvis chose to record the vocal at the end of the studio corridor.

5. I JUST CAN'T HELP BELIEVING

Encapsulates the live, second-coming - his band never sounded better. The back-and-forths between Elvis and backing singers the Sweet Inspirations ("one more time... yeah, one more!") are the highlight.

6. SUSPICION

A teenage pre-cursor to Suspicious Minds, and almost as good. Shadowed by autoharp and a sinister bassline, the victim's pained politeness explodes into paranoia at the end of the chorus: "Why torture me?"

7. GOOD ROCKING TONIGHT

No less than an invitation to come join the teenage revolution. "We're gonna rock all our blues away" - the original slang usage of 'rock 'n' roll' was never more explicit.

8. DOING THE BEST I CAN

From the GI Blues soundtrack, a Pomus and Shuman ballad of abject surrender. The vocal gets under your skin, keening and helpless - no wonder girls melted.

9. ONE NIGHT


This snarling menace to American moral fibre had to be toned down from "one night of sin" to "one night with you," though the performance is so loaded with sexual promise they needn't have bothered.

10. TOMORROW IS A LONG TIME

Cut in 1966 between some of his worst movie scores, the delicate, haunted take on Bob Dylan's song hints at a parallel Elvis universe. Dylan has since hailed it as his favourite cover version.

11. CAN'T HELP FALLING IN LOVE

Irresistibly tender. The world's favourite wedding song.

12. LITTLE SISTER

Nasty and playful rocker with a burning guitar line.

13. DON'T BE CRUEL

The minimal, hand-clapping groove sent this to number one in '56 for eleven weeks.

14. IT'S NOW OR NEVER

Inspired by Mario Lanza, adapted for a Cornetto ad, his biggest international hit.

15. POLK SALAD ANNIE

Sweaty, southern-fried highlight of his Vegas era.

16. ALL SHOOK UP

Introduced the classic "uh-huh-huh" to the Presley repertoire.

17. PLEASE DON'T STOP LOVING ME

Intense southern soul ballad buried on the b-side of Frankie And Johnny.

18. BLUE MOON

Eerie clip-clopping reading, with Elvis already sounding like his own ghost, haunting America in 1956.

19. CRAWFISH

The deepest, most atmospheric song about fishing you'll ever hear.

20. A MESS OF BLUES

A whisky-soaked Elvis beats himself up: "Whoops, there goes a teardrop..."

21. THAT'S ALL RIGHT

A little hesitant, but this is where it all began.

22. LONG BLACK LIMOUSINE

The tale of a poor southern singer gone too soon is delivered with unnerving emotion.

23. GUITAR MAN

Jerry Reed's song was autobiographical, but Presley made it his, and a springboard for artistic renewal in '68.

24. JAILHOUSE ROCK

DJ Fontana's granite-breaking drums deserve co-star status.

25. LOVE ME TENDER

First suggestions of his Italianite leanings, this showed America the boy wasn't always a hoodlum.

26. THAT'S SOMEONE YOU'LL NEVER FORGET

A graveyard ballad, though death is never mentioned directly, that could have been sung with his mum in mind.

27. ANY DAY NOW

True blue-eyed soul, a beautiful song from the '69 Memphis sessions.

28. BURNING LOVE

If he wanted to, he could still take the dancefloor in the seventies.

29. VIVA LAS VEGAS

A minor hit at the time, a standard now.

30. AN AMERICAN TRILOGY

Elvis probably never knew Micky Newbury's patriotic showstopper was ironic.

31. TRYING TO GET YOU

Both the Sun original and the bellowing '68 comeback version are impossible to resist.

32. A FOOL SUCH AS I

Messing about with his own myth in fine style.

33. RECONSIDER BABY

The dirtiest, truest blues he ever recorded. Boots Randolph's sax break is filthy.

34. TROUBLE

Ludicrous lyric with an insanely aggressive delivery over a drunken, Tom and Jerry-esque Dixieland backing.

35. I'M LEAVIN'

"Tried so hard, so hard..." His most intense break-up song, this should be better known.

36. ARE YOU LONESOME TONIGHT

Country ham (it was Colonel Parker's favourite song) handled with real emotion. That voice had an incredible arsenal.

37. IN THE GHETTO

Simplistic but affecting, this 1969 number one turned his career around.

38. RETURN TO SENDER

The Presley entry point for five-year olds.

39. SHE'S NOT YOU

Elvis's best performances of the early sixties usually involved a love triangle lyric – this slow-dance special was the strongest.

40. THE GIRL OF MY BEST FRIEND

Compelling and heart-breakingly sharp teen romance.

41. I'VE LOST YOU

Elvis, King of Pain, reflects on the imminent collapse of his marriage.

42. BABY LET'S PLAY HOUSE

Sam Phillips' echoed production and Elvis's hiccoughs invent rockabilly in two minutes.

43. ALWAYS ON MY MIND

Regrets, he had more than a few.

44. I NEED SOMEBODY TO LEAN ON

The perfect lounge jazz-blues for 3 am, from Viva Las Vegas.

45. HIS LATEST FLAME

Bo Diddley beat with Latin touches, The Smiths built half their catalogue around it.

46. IT HURTS ME

A soulful roar from '64, revisited to great effect in the Comeback Special.

47. WAY DOWN

He bowed out sounding pretty darn contemporary, though JD Sumner's low, low bass notes take the limelight.

48. LOVE ME

Written by Leiber and Stoller as a self-parody; the reading is so sincere, you'd never know.

49. TOO MUCH

Constantly on the edge of falling apart but hard as nails, the archetypal tough rocker.

50. YOU'LL NEVER WALK ALONE

No matter how many times you've heard this song before, the intensity and belief of Elvis's interpretation will floor you.



Find out more about Elvis and his life.
More information and links for the King.