So What Is Pancake Day All About?....
Shrove Tuesday and Pancake Day have been synonymous for more than 500 years. The original idea behind Pancake Day was to use up all the fat in the house before Lenten abstinence. Folklore has it that parishioners, eager to reach church in time for the last 'shriving' or confession, would race through the streets still clutching their half-finished pancakes - the beginnings of the great pancake race tradition.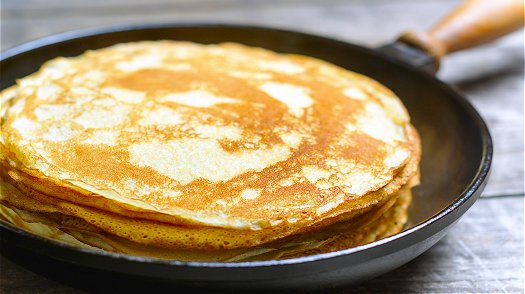 The original Pancake Race was, and still is, held in Olney, Buckinghamshire. Housewives run 400 yards, tossing a home-made pancake and competing for a kiss from the church verger, no less. But pancakes are not a peculiarly British tradition. Almost every nationality has their variation on pancakes made from their local grain, according to local tradition: from Irish potato boxty, French wafer-thin sweet crèpes and buckwheat galettes, to Italian crespelle, Russian blinis, Indian dosai, and Mexican tortillas.
In France crèpes remain one of the best fast-foods, whether dished up from tiny pavement stands or from venerable establishments like the Crèperie Josselin with its dark, polished wood booths on Rue Montparnasse in Paris. Strictly speaking, the term crèpe (from the Latin crispus, meaning curled or crinkly - so the definitive crèpe should be slightly crisp with a fine lacy rim) refers only to the white flour dessert crèpes. Most popular in France, however, are the more substantial Breton galettes made with slightly nutty, darker, nutritious buckwheat flour on cast-iron griddles and stuffed with a dizzying array of ingredients from Gruyère cheese and ham, or Camembert and walnut to combinations based on spinach, asparagus, mushroom, bacon, and other delicious ingredients. London restaurant Chez Lindsay have imported the Breton galette dining experience to Richmond, with fabulous fillings such as smoked salmon, lemon and chive cream. Wash it down with a flacon of cider.
Crespelle (significantly meaning wrinkled, not crispy) are Italian pancakes used rather like pasta. They are either layered, lasagne-style, and alternated with a garlicky tomato sauce scattered with finely chopped prosciutto, diced Italian buffalo-milk mozzarella and grated parmesan; or stuffed like cannelloni. My favourites are crespelle stuffed with cooked, peppery spinach and ricotta cheese, or Italian cookery guru Anna del Conte's filling of sweet spiced ricotta with sultanas, rum and cinnamon. Anna then bakes the crespelle with an orange-flavoured sweet bichamel sauce.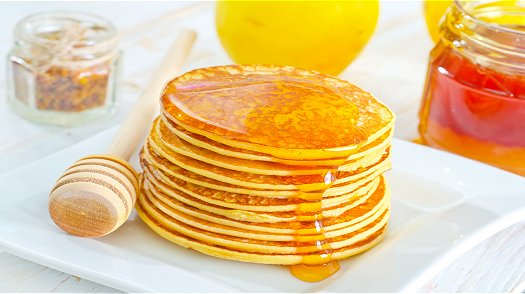 Pancakes can be found outside Europe in all sorts of different guises, some of them a hybrid of Eastern and Western influences. To Western minds Peking duck and Chinese pancakes are an inseparable double act, but this is actually a Western pairing. Peking Duck is traditionally served with steamed bread rolls and pancakes with a variety of fillings, or with noodle soup. But pancakes and duck are now a fact of menu life, if fiendishly difficult to replicate at home. They are made with flour and hot water, with a little cold water added for elasticity, and mixed thoroughly with chopsticks, then kneaded, rested, rolled and fashioned into double pancakes. They are then fried swiftly in an unoiled pan or wok, flipped and finally steamed or microwaved. Ken Hom in his Foolproof Chinese Cookery (BBC Publications) gives a good step-by-step recipe, but for the ultimate Peking duck and pancake-at-your-table experience, try the Oriental at The Dorchester Hotel, the UK's only Michelin-starred Chinese restaurant.
Indian cooks make a huge number of pancake-like dishes, which are eaten for breakfast as well as lunch and supper. Southern Indian rice dosai, fluffed up and meltingly crisp are often filled with spiced potato and served with a hot vegetable curry or sambal on the side. Indian celebrity chef Kuldeep Singh's restaurant on Shaftesbury Avenue in London, Mela, serves a huge variety of pancakes at astonishingly reasonable prices at lunchtime - including appam, made from ground and fermented lentils and uttappam, from chick-pea flour and filled with exotic stuffings. Both types of pancake are alluringly light and oil-free and served with delicious toppings, such as homemade paneer cheese and peas and coconut chutney.
In Mexico, pancakes are a fail-safe food staple made with maize corn and eaten at almost every meal, mostly as a bread or as a wrap for a re-fried bean filling.
Pancakes are, undoubtedly, the prototypical universal fast food and, most definitely, not just for Shrove Tuesday.
How To Make A Basic Pancake Recipe
Ingredients For The Pancake Batter:
150g plain flour
2 large eggs
300ml milk
2 tbsp melted butter or vegetable oil, plus extra for frying
pinch of salt
Preparation:
1. Place all the ingredients in a liquidiser with 150ml cold water. Whizz to a smooth batter. Or, sift the flour and salt into a bowl, add the eggs and about half the milk. Whisk to a thick paste. Whisk in the rest of the milk and 150ml water for a smooth, pouring batter, then add the melted butter or oil.
2. Heat ½ tsp butter or oil in a non-stick 18 cm/7 in frying pan. Pour in 4 tbsp batter and swirl around. Cook for 15 seconds until the edges brown.
3. Use a fish slice or palette knife to turn it over, or if you?re courageous, toss it! Cook until lightly browned.
4. Repeat with the rest of the batter to make about 14 pancakes. Stack them on a plate between sheets of greaseproof paper. You can keep the plate over a saucepan of just simmering water to keep warm or wrap them loosely in foil and reheat in the oven at 200C/400F/gas mark 6 for 15-20 minutes.
Prep / Cook Information:
Prep time: 5 minutes
Cook time: 10 minutes
Serves: 4
Pancakes can be filled with all types of lovely flavours some of my favourite include blueberry pancakes. You can also have buttermilk pancakes and savoury pancakes.
Blueberry Pancake Recipe
2 large eggs, separated
5 tablespoons milk
100g (4 oz) self raising flour
4 tablespoons caster sugar
pinch salt
100g (4 oz) blueberries
1 tablespoon vegetable oil

Preparation
1.Place the egg yolks and milk in a medium bowl and mix thoroughly. Sift over the flour, caster sugar and salt and combine well.
2.Whisk the egg whites in a glass or metallic bowl until they form soft peaks, then fold into the flour mixture gently. Carefully fold in the blueberries.
3.Heat the oil in a frying pan over medium high heat. Drop 2 tablespoons of the mixture into the pan for each pancake, and cook for 2 minutes or until golden brown. Flip and cook for a further minute on the other side.