Chuckle Corner....
Horoscopes
Ever wondered about these strange things? Well below I can exclusively publish the REAL horoscope!
AQUARIUS ( Jan 20th - Feb 18 )
You have an inventive mind and are inclined to be progressive. You lie a great deal. You make the same mistakes repeatedly because you are so stupid. Everyone has a very low opinon of you and think that your a jerk.
PISCES ( Feb 19 - Mar 20 )
You have a vivid imagination and often think you are being followed by the F.B.I or the C.I.A. Ypu have a minor influence on your friends and people resent you for your power. You lack confidence and are a general dipshit.
ARIES ( March 21st - April 20th )
You are the pioneer type ad think that most people are D**kheads. You are quick tempered, impatient and scornful of advice. You are a complete and utter S*it head as you don't give a S*it about anybody but yourself.
TAURUS (Apr 21 - May 20th )
You are practical and persistent. You have a dogged determination and work like hell. Most people think you are stubborn and bull headed. You are nothing but a pile of doggy doo.
GEMINI ( May 21st - June 20th )
You are a quick and intelligent thinker. People like you because you are bisexual. You are inclined to expect too much for too little. This means that you are a cheap sod. Gemini's are notorious for thriving on incest.
CANCER ( June 21st - July 22nd )
You are sympathetic and understanding of other peoples problems which makes you a sucker. You are always putting things off. That is why you will always be on welfare and won't be worth a shit to anybody. Everyone in prison is a cancer.
LEO ( July 23rd - Aug 22nd )
You consider yourself a born leader, while others think that you are an idiot. Most Leo's are bullies who are vain and cannot tolerate criticism. Leo's are thieves and spend most of their time kissing mirrors.
VIRGO ( Aug 23rd - Sept 22nd )
You are the logical type and hate disorder. This shit picking is sickening to your friends. You are cold and unemotional and often fall sleep while having sex. Virgo's often make good bus drivers and pimps.
LIBRA ( Sept 23rd - Oct 22nd )
You are the artistic type and and have a difficult time with reality. If you are male then you will be gay. Chances for employment and momentary gain are nil. Most Libra women are prostitutes. All Libra's die of a sexually transmitted disease.
SCORPIO ( Oct 23rd - Nov 21st)
The worst of the lot. You are shrewd in business and cannot be trusted. You shall achieve the pinnacle of success because of your total lack of ethics. You are a perfect son-of-a-btch. Most Scorpio's are murdered.
SAGITTARIUS ( Nov 22nd - Dec 21st )
You are optimistic and enthusiastic. You have a reckless tendency to rely on luck since you have no talent at all. The majority of Sagitarians are drunks. You are not worth the time of day.
CAPRICORN ( Dec 22nd - Jan 19th )
You are conservative and afraid of taking risks. You are basically chicken shit. There has never been a Capricorn of any importance. Mostly Capricorn's are homosexual.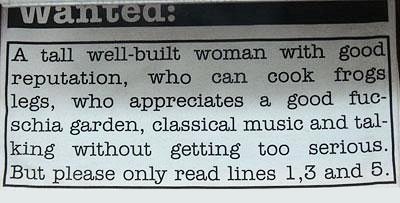 This is a very good example of play on words
Have you got any good jokes or pictures, then e-mail them to me.
Ah go on! it will only take a few moments. Ta, Dents....
Are YOU Intelligent ?
Click on the button below to see if you are an intelligent person. This page will work out your intelligence level by analysing the web pages that you have recently been browsing and by looking at the software installed on your computer.
This test will only take 5 seconds to complete, good luck with the test.
More Fun Stuff Coming Soon....