Spy's Toolkit....
Want to send your friends messages in code like secret agents do?
Type your secret stuff in the box below and press the Encrypt button. Copy and paste the encrypted message into an email and get your friend to Decrypt it at the other end by reversing the process and pressing the Decrypt button. Sneaky or what?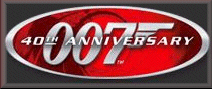 Want to learn more about secret agents? then check out the James Bond 007 website. The site has everything you ever wanted to know about James Bond, Miss Moneypenny and more. Check it out by clicking the image above.