Meadowhall Radio - Live from Sheffield
The History & Concept...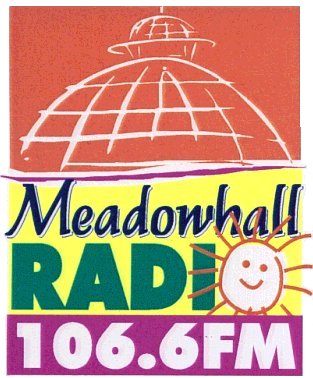 It all started when Pete a friend of mine had the idea to do an RSL in Sheffield. Having decided on the format of the station a demo was sent to the Meadowhall Shopping Centre in Sheffield and the history of Meadowhall Information Radio began.
The idea was to provide a traffic and travel service for visitors to Europe's largest shopping centre. This was to alleviate the congestion experienced during the Christmas shopping period. The service was so successful that we were given the opportunity to provide summer broadcasts in the school holidays as well as the Christmas broadcasts.
Our first broadcast was Christmas 1993 and subsequent broadcasts were as listed below.
The station format included traffic bulletins every 12 minutes which meant that traffic news was constantly updated 5 times per hour. As well as travel news, weather information was broadcast at the same time. News on top of the hour was provided by Independent Radio News via satellite from London.
Meadowhall Radio broadcast regular features such as the entertainment guide and ran many competitions. We gave away hundreds of pairs of cinema tickets to see movies at Meadowhall's Warner Village Cinema which is now called Vue. We even had the exclusive use of a screen on New Years Day to show a preview of Disney's 101 Dalmatians. We easily FILLED the Meadowhall cinema with listeners!!!!!!
Each broadcast ran for 28 days and provided output 24 hours a day. We were the first RSL to have RDS traffic flags on our travel bulletins. Eventually the information was dropped from the name to make it Meadowhall Radio.
It all ended in 1998 when the Meadowhall Shopping Centre appointed a new marketing manager :o(
The Management Team....
Pete Brettle - Programme Director
Paul Denton - Administration & Finance Director
Andrew Deprez - Personnel Director
Paul Godley - Technical Director
Nick Sanders - Facilities Director
Marie Godley - Director
Claire Brettle - Director
The Presenting Team...
Paul Denton
Pete Brettle
Paul Godley
Steve Flowers
David Bell
Marcus Langreiter
Scott Marshall
Andy Painten
Richard McCourt
Andrew Deprez
Nick Sanders
Sarah Major
Simon Walker
Lee Glasby
Chris Sandham
Jamie Banton
Clive Lingwood
David Poole
James Marson
James Bower
Laura Craig
Lorraine Plummer
Peter Stringfellow
Mike Bargh
Doug Young
Debbie Miller
Alison Belk
Chris Marsden
Pamela Bennett
Robert Smith
Mike Smith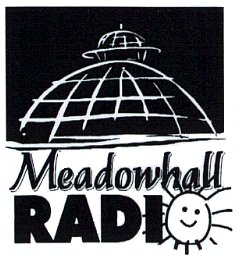 The Presenters, Where Are They Now?
Paul Denton - Retired from radio
Paul Godley - Freelance radio engineer and presenter at TX1 Radio
Andrew Deprez - The Pulse Radio
Andy Painten - Freelance Producer/Director
Richard McCourt - Children's BBC (TV)
Mike Bargh - Freelance TV Supporting Artist
Steve Flowers - Sheffield Hallam University (retired)
Nick Sanders - Yorkshire TV
David Bell - Ward Manager at Claremont Private Hospital
Chris Marsden - Director at YO1 Radio - York
Pete Brettle - Trafford Sound
Sarah Major - BBC Radio Sheffield
Marcus Langreiter - Event Manager at Business West
Scott Marshall - Commercial distribution at Global Radio and Freelance Broadcast Journalist at Capital FM
Rob Smith - Creative Director at Studio 2 Media Ltd
Lee Glasby - Voice Over at www.leeglasbyvoiceover.co.uk

The rest who knows....Do you?
The Technical Information
The station broadcast via a UHF link of 25W ERP, horizontally polarised which fed its stereo programmes to its main transmitter site in Rotherham. The signal was then rebroadcast in the band II spectrum on 106.2Mhz Fm with an ERP of 10W.
The transmitting antenna was a "Jaybeam 7050" which was vertically polarised and was 450 feet above sea level. Meadowhall Radio used the "Zenith GE" stereo pilot system and carried the Radio Data System (RDS).The call sign (PS Code) was "MEDOHALL" and its Programme Identification (PI Code) was C095.
Who Created The Jingles And Stuff?
The sung jingles were made by Thompson Creative and the station voice overs were Nick Jackson who did all the station promos and Nick Coady who did all the station id's
To listen to one of the jingles press the play button
The Broadcasts Were...
27th Nov - 24th Dec 1993 on 87.7fm
4th Dec - 31st Dec 1994 on 105.4fm
4th Dec - 31st Dec 1995 on 105.8fm
1st Aug - 28th Aug 1996 on 106.2fm
9th Dec - 5th Jan 1997 on 106.2fm
6th Jul - Aug 2nd 1997 on 106.6fm
4th Dec - 31st Dec 1997 on 106.6fm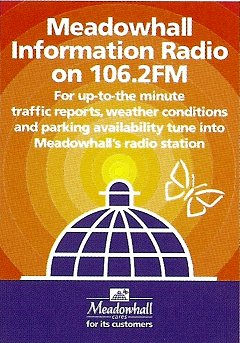 Poster that was displayed around the centre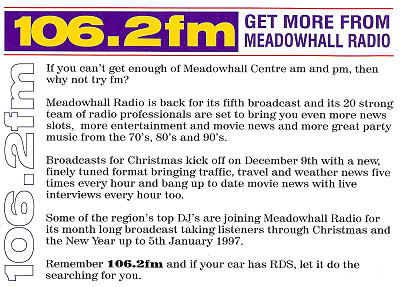 Article from Meadowhall's Magazine "The Messenger" from Christmas 1996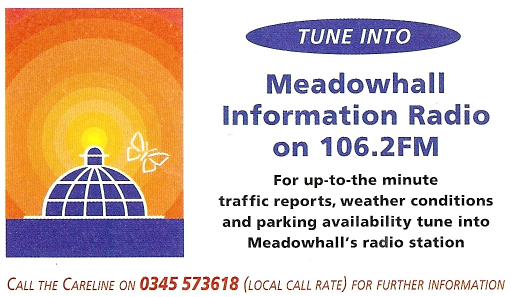 Advert from Meadowhall's Mall Guide August 1996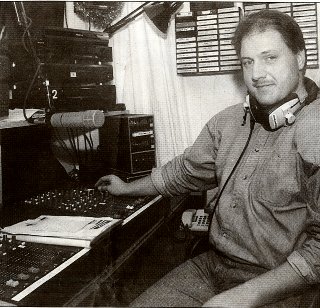 Paul Godley at the controls from December 1997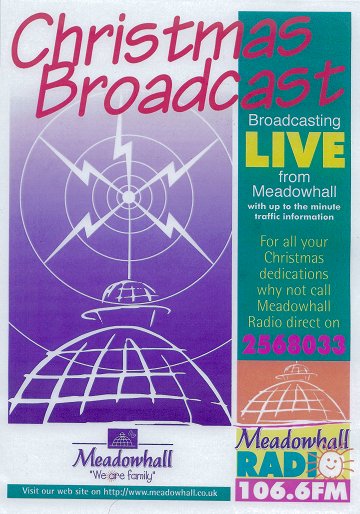 Poster Displayed on the Information Desks from 1997
Finally some still shots taken from our Advert that ran on Meadowhall TV © 1997